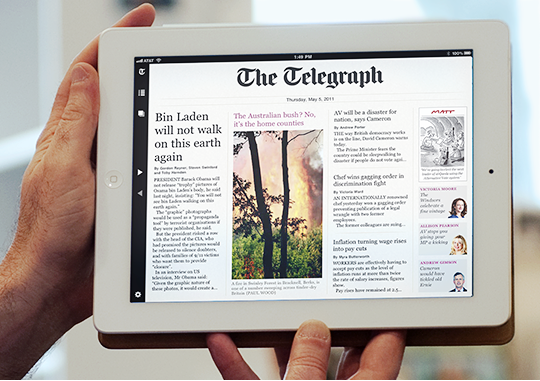 We recently hosted a webinar with Mark Challinor – Director of Mobile for UK's Daily Telegraph, one of the world's leading news companies.
It was fascinating to hear about how they are using mobile to shape their tablet strategy and how analytics provide powerful and compelling evidence of his success in this channel.
(If you weren't able to attend you can watch the recorded presentation here.)
Mark is one of a number of very enlightened mobile marketers that have come to understand what a crucial role that mobile analytics must play in the formulation of mobile strategy and the evolution of the user experience.  Having a great strategy is crucial to success in the ever-shifting landscape that is mobile today. Yet, a recent Forrester study revealed that ¾ of the most experienced brands in mobile marketing don't.
It's also essential to the brands ability to make sure that the site/app gets used more than once yet research from eMarketer, Nielsen and a host of others have revealed that the vast majority of apps aren't being used more than once or twice and then discarded. Clearly consumers aren't finding what they are looking for but most marketers have no idea what that is and that's because they aren't applying the same kind of rigor to mobile analytics that they are to every other key digital channel (WWW, in email, social, search, display) and that's perhaps the reason Forrester recently described mobile measurement as a customer intelligence imperative.  That's why Mark's approach to their smartphone and tablet efforts are so interesting and should serve as an example.
As smartphone penetration escalates and more and more tablets explode onto the scene, it's critical that marketers understand the following:
What kind of device traffic they are seeing to the site/app?, is it trending?  and how should this influence future development priorities?
What does the user engagement look like and how might this influence the evolution of the site/app user experience?
What mediums (mobile search, display, SMS ,email, social or WWW) are driving traffic there and how should this influence prioritization of spend and channel integration going forward?
Are consumers engaging with key conversion focused activities and what kind of return is this driving?
Does the tablet user engage with the site/app differently than the smartphone or feature phone user and what can the marketer do to optimize these sites/experiences?
What is the session duration and frequency?  Are consumers really using the site/app?   and if a ROI metric exists what does this tell us about the success or relative failure of our mobile efforts?
How does the mobile consumer engage with SMS vs mobile web vs applications and what insights can be gleaned from their behavior and how might this influence future messaging or user experience efforts?
Until the mobile marketer can begin to drive these kinds of insights it's extraordinarily difficult to create an effective (ROI driven) mobile strategy or to refine the user experience so that the user engages with your site, content and messaging.
Taking a "data-centric" approach is critical to success in digital or any contemporary marketing medium. However in mobile, we haven't seen the same level of rigor and sophistication when it comes to being ANALYTICALLY driven.
This is at times painfully true in the brand world but less so in the publishing, gaming and media parts of the mobile landscape because they have all been at it a bit longer.  Savvy mobile marketers understand that mobile analytics are "mission critical" to success in the world that is emerging and they are use this data to inform and guide what they are doing with respect to their mobile programs.
The marketers we speak to desperately want to begin to get their hands around this data and to make sense of it. They know that having no mobile strategy or applying guesswork to the evolution of the site/app user experience is a prescription for failure.  But, they are growing frustrated because their agencies, mobile platform or development partners or own marketing teams struggle to provide these kinds of insights or give them a siloed view of what's happening in either SMS, mobile web, apps, or perhaps with QR codes.  Compiling this data and using it to drive insights still seems like heavy lifting for them and it honestly shouldn't be that way.
Which bring me back to Mark's story – his app downloads are growing, his user engagement is outstanding and they are finding a great deal of success ($$, ROI) in this important new tablet market – because he's understands intimately how his users are engaging with his app and he's able to answer many of the questions that I posed above. Can you?
You know what I think … tell us what you think !
If you've got questions about mobile for Mike or topic you'd like to see covered here – share your thoughts with us below or any of our social channels (Facebook, Twitter or in our User Forums)